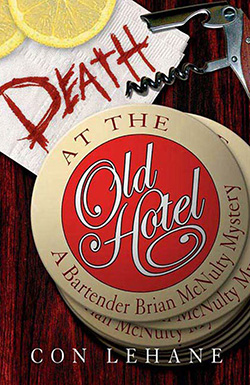 Tensions are high and the dangers multiply as New York City bartender and man-about-the-mean streets Brian McNulty, always a sucker for the plight of the little guy, joins forces with a motley crew of workers from the old Savoy Hotel to tackle a cheating union bureaucrat and a corrupt, tyrannical hotel boss.
McNulty has once more run afoul of the powers-that-be in the New York City hotel and restaurant industry and finds himself exiled to a down-at-the heels hotel in, for him, the far reaches of civilization-Manhattan, west of Eighth Avenue. Not long into his tenure at the Savoy, a vicious attack on one of his fellow bartenders raises the stakes and puts everyone on edge, so it doesn't take much for the hotel manager to provoke the outraged workers into a strike. Once they hit the bricks, all hell breaks loose, and it isn't long until the bodies start to fall.
Naturally, when it comes time to pick a suspect there are plenty to choose from—a picket line full of malcontent workers—and before you know it, McNulty is sorting through his collection of reprobate pals to figure out who might be a murderer this time. The cops focus in on two of McNulty's pals, a renegade Irishman and a young, pretty waitress from Brooklyn, both with closets full of secrets and buckets full of problems of their own.
McNulty thinks the cops, as usual, are barking up the wrong tree, but that's the least of his problems because it's not only the police who are determined to track down the killer. The hits in this particular instance have angered the gods of gangsterland, and one of the midtown Mustache Pete's has determined that McNulty is a "problem"—not something you want to be in a world where problems don't get solved, they get whacked.
Keeping the goons off his back and away from his son Kevin is more than enough motivation for McNulty to put his not especially well-honed detective skills to work in the service of justice. Not surprisingly, neither justice nor McNulty himself fare very well in the endeavor, but as in past escapades, his dogged determination and willingness to see life without illusion bring the case to closure and McNulty face to face once more with unyielding and unpleasant truth.
What they're saying:
"Con Lehane's mysteries about a genial Irish-American bartender named Brian McNulty are as cruelly charming as those Irish saloon storytellers who make sure you're laughing before they flatten you with the sad stories of their lives… Lehane has an honest feel for the working-class life of New York. And he's clear-eyed about those crimes of the heart that have nothing to do with class."
—Marilyn Stasio, New York Times Book Review
"Like all fine bartenders, Brian McNulty listens well, tells great stories and mixes a mean martini. But unlike your typical booze slinger, McNulty is also a master detective… Lehane's novel is steeped in Irish lore, union history and the stale-beer smell of a bar after closing time. Death at the Old Hotel is much more than a linear mystery. It's also a generational saga of McNulty, his father and his wayward son. Lehane knows this world. He was a bartender and a union organizer and is a natural storyteller. There's a lot of action, but the fascinating part of the book is getting inside McNulty's mind and seeing what makes this man tick."
—William McKeen, St. Petersburg Times
"Forget the glitterati, the Eurotrash and the robber barons. Brian McNulty is my kind of New Yorker, and Con Lehane writes about the New York I love."
—S.J. Rozan, author of In This Rain
"A fierce novel in the Irish sense… it may well prove to be the definitive Irish American saga. A dark emerald, lit by old glory… a true masterpiece of slow burn."
—Ken Bruen, author of The Dramatist