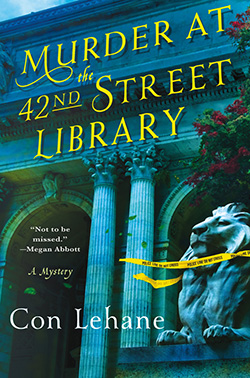 This first book in an irresistible new series introduces librarian and reluctant sleuth Raymond Ambler, a doggedly curious fellow who uncovers murderous secrets hidden behind the majestic marble façade of New York City's landmark 42nd Street Library.
Murder at the 42nd Street Library follows Ambler and his partners in crime-solving as they track down a killer, shining a light on the dark deeds and secret relationships that are hidden deep inside the famous flagship building at the corner of 42nd Street and Fifth Avenue.
In their search for the reasons behind the murder, Ambler and his crew uncover sinister, and profoundly disturbing, relationships among the scholars studying in the iconic library. Included among the players are a celebrated mystery writer who has donated his papers to the library's crime fiction collection; that writer's long-missing daughter, a prominent New York society woman with a hidden past, and more than one of Ambler's colleagues at the library. Shocking revelations lead inexorably to the traumatic events that follow—the reading room will never be the same.
What they're saying:
"Lehane awards his previous detective, bartender Brian McNulty, a cameo but focuses on the complicated Ray, who looks like a promising newcomer in the talented-amateur ranks."
—Kirkus (starred)
"Lehane's enjoyable first in a new series introduces crime fiction librarian Raymond 'Ray' Ambler (possibly a nod to authors Raymond Chandler and Eric Ambler)… Fans of Lehane's cranky bartender Brian McNulty, the hero of his earlier series, will welcome his appearance in a supporting role."
—Publishers Weekly
"A fun read for mystery buffs and librarians alike."
—Library Journal
"This provocative story features a cast of characters that are well fleshed out, completely fallible and very human… an intriguing tale of jealousy and revenge, peppered with colorful characters and a shocking conclusion."
—Crimespree
"A masterful tale of intrigue, jealousy, and revenge in the grand tradition of Ross Macdonald. Not to be missed."
—Megan Abbott, New York Times bestselling author
"A series that lovers of crime fictions will want to follow… The bad news, as Lehane confesses in his Author's Note, is that there is no such thing as the crime fiction collection at the 42nd Street Library. The good news is that we can look forward to more stories featuring Raymond Ambler; a new member of the ranks of the resourceful, non-law enforcement characters that can't help but get to the bottom of murder or other crimes."
—Bookgasm (Read full review)
"An entertaining read… and a great introduction to a fresh new sleuth."
—20Something Reads (Read full review)
"The plethora of well-developed and likable characters and the story's iconic setting lends much to the feeling of intensity that underlies the novel. With this being the first in a new series for Lehane, readers will be wise to expect a follow-up worth waiting for."
—High Voltage (Read full review)
"A satisfying, slow-burning, complex mystery… the descriptions of the library, its stacks, and its offices are even more reason to read this mystery."
—BookBrowse (Read full review)
"I loved the feel of New York City that the author so beautifully provides, and I was left thinking about several of the characters after I closed the book. What more, really, can a reader ask for?"
—Aunt Agatha's (Read full review)
"Murder at the 42nd Street Library is filled with complex, dysfunctional characters with twisted lives. At the same time, it's a love letter to New York City, an atmospheric story that begins and ends with tragedy."
—Lesa's Book Critiques (Read full review)
"Crime, books and libraries make for a heady combination in Murder at the 42nd Street Library… Ambler the librarian has a disarming, low-key aura that wins us over, along with his well-calibrated iron fist/velvet glove shtick. And wait for it, there's a honey of an unexpected ending."
—Bookpage (Read full review)