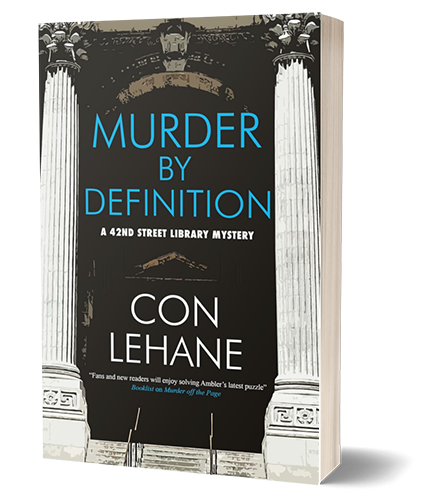 Crime-fiction librarian Ray Ambler gets more than he bargained for when he acquires the archives of a controversial hardboiled crime author in Murder By Definition, a contemporary twisty mystery set in New York City.
Will Ford might be critically acclaimed, but he's every bit as drunken and disreputable as the ne'er-do-well private eye in his novels. So when Ford offers Raymond Ambler a collection of his papers, Ambler wonders if the project will be more trouble than it's worth. Still, the disgraced author is an important talent, and Ambler's never been afraid of a fight.
Ambler's ready for the controversy that greets news of the acquisition. He's not ready, however, for what he finds when he finally receives the papers: a gripping unpublished short story apparently based on a real case, with an explosive author's note. If it's true, there's been a shocking coverup at the heart of the NYPD—and a cop has got away with murder.
If it's true. Ford's not talking, and Ambler's good friend Mike Cosgrove, a veteran NYPD homicide detective, is beyond skeptical. But as the pair investigate, they're drawn into the sordid underbelly of 1990s New York, packed with pimps, thugs and mobsters… and they'll be lucky to come back out alive.
"Intriguing… Memorable prose. Those with a taste for noir lite will want to check this out."
—Publishers Weekly
Read more about Murder By Definition
Buy the book:
---
Coming in March 2024:
Murder at the College Library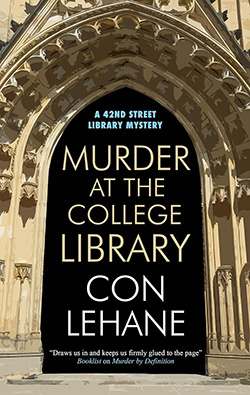 Crime-fiction librarian—and reluctant amateur sleuth—Ray Ambler gets mixed up in murder once again when he's called to appraise a mystery-novel collection at an exclusive New York college.
An invitation from a prestigious liberal arts college to buy their mystery-novel collection comes as a welcome surprise for Raymond Ambler, crime-fiction curator at New York City's prestigious 42nd Street Library. But his pleasure quickly turns sour when the collection's curator—Ambler's friend Sam Abernathy—tells him he plans to fight the acquisition tooth and nail. The collection would make a fine addition to his holdings, but Ambler's not looking for drama. It's a shame, then, that drama's looking for him. Just a couple of weeks later, one of Abernathy's colleagues is shot dead from the library's roof, and all signs point to the crime-loving professor as the perpetrator of the violent act. Why would Abernathy kill—and was it for his collection, for college politics, or for some dark secret yet to be revealed? Ambler's not sure his old friend's a killer, but he is sure he wants justice—for both the living and the dead. Working with his son John, he launches into an investigation at the college library, and it's not long before he discovers missing manuscripts, explosive secrets and scandals amongst the faculty staff . . . and a cunning killer who'll stop at nothing to cover up their crimes.