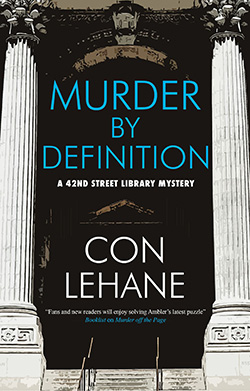 Crime-fiction librarian Ray Ambler gets more than he bargained for when he acquires the archives of a controversial hardboiled crime author in this contemporary twisty mystery set in New York City.
Hardboiled crime writer Will Ford might be critically acclaimed, but he's every bit as drunken and disreputable as the ne'er-do-well private eye in his novels. So when Ford offers Raymond Ambler—crime-fiction curator at New York City's prestigious 42nd Street Library—a collection of his papers, Ambler wonders if the project will be more trouble than it's worth. Still, the disgraced author is an important talent, and Ambler's never been afraid of a fight.
Ambler's ready for the controversy that greets news of the acquisition. He's not ready, however, for what he finds when he finally receives the papers: a gripping unpublished short story apparently based on a real case, with an explosive author's note. If it's true, there's been a shocking coverup at the heart of the NYPD—and a cop has got away with murder.
If it's true. Ford's not talking, and Ambler's good friend Mike Cosgrove, a veteran NYPD homicide detective, is beyond skeptical. But as the pair investigate, they're drawn into the sordid underbelly of 1990s New York, packed with pimps, thugs and mobsters… and they'll be lucky to come back out alive.
Gritty and fast-paced, this story of police corruption, murder and mayhem is a great choice for fans of traditional mysteries with complex plotting, atmospheric settings and red herrings a plenty!
Read an interview with Con Lehane about writing Murder By Definition
What they're saying:
"Intriguing… Memorable prose. Those with a taste for noir lite will want to check this out."
—Publishers Weekly