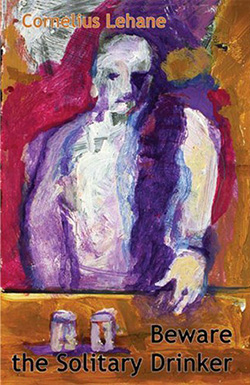 Worlds within worlds—enter into a very special culture with unwritten rules…
Brian McNulty, veteran bartender at Oscar's on the Upper West Side, respects his customers' privacy. And their space. But when one—a tarnished but innocent young woman seduced by New York's bright lights and glitter—is murdered, and another battered innocent is charged with killing her, he reluctantly begins his own investigation.
Brian's enthusiasm for the chase is given a boost with the arrival of the dead girl's sister, a young business woman from Massachusetts, equally bent on uncovering the killer. She's put off by his jaded attitude and offbeat lifestyle, but comes to rely upon his familiarity with the city's darker underside. Brian, in turn, enlists the aid of a cadre of neighborhood cronies. The suspects: all of the regulars at Oscar's, each with more to hide than the next.
A leftist politically, a dedicated union man, Brian learns that when you dig into people's lives, rich or poor, you find things kept hidden for good reason. By stirring up these ghosts, you change the shape of the landscape and put your friends in harm's way.
What they're saying:
"The characters who inhabit Oscar's bar on New York's Upper West Side are serious drinkers with more than their share of quirks, shames, secrets and strengths. In this strong debut novel, Lehane exhibits a sensitive empathy for those who find solace in drink and drugs and the ambience at Oscar's, where one can be solitary but not alone… Brian is a wonderfully complex character, and Lehane reveals him to the reader with exquisite skill. Brian takes shape, developing substance and form, just as his stumbling investigation does. Set in 1983 but timeless in its depiction of men and women struggling to cope with whatever demons beset them, Lehane's assured debut merits a warm welcome from readers who prize originality and insight."
—Publishers Weekly (starred review)
"The hero is an 'everyman' sort of guy, making him appealing to both genders. For an amateur, he is a very good detective and he actually unearths some very decent clues that lead to possible suspects. Any New Yorker will realize that the story line is an actual portrayal of life in the Big Apple (at least the Manhattan borough). Beware the Solitary Drinker has much to recommend it."
—Midwest Book Review
"Beware the Solitary Drinker is a neat little murder mystery set in Manhattan, and centered around a joint on the Upper West Side… We wish Lehane would quit his journalist job and get back behind the stick where he belongs—he'd be a credit to the industry, and he'd have more time to pen a whole series of wonderful books like this one."
—Ardent Spirits
"Lehane's narrative vividly evokes a melancholy city in decline, and a sullen man who, when forced to act, rises above the alcoholic despair that surrounds him."
—Alfred Hitchcock's Mystery Magazine